Reviews
Here is what some of our Mamas had to say
Niomi - Lewlewbelle Faeries
What do you get when you cross an Aussie wahm passionate about babywearing and an Aussie weaver passionate about textiles????? You get a new range of woven wraps made in Australia for Lewlewbelle. At first glance the weave looks dense but its got the most amazing amount of diagonal stretch AND lengthways stretch for perfect mouldability. It reminds me a lot of nhindia but without the thickness and weight that nhindia has. I have only wrapped Connor briefly but it feels super supportive with a nice amount of cush. It's medium thickness, not slippery but not grippy at all. The pattern is whimsical and delightful!!!! The amount of care in making them is obvious as is the pattern placement. I'm seriously in love and cannot wait to see what else Therese comes up with
Hannah - Lewlewbelle Faeries & Unicorns
I was so excited to try out Lewlewbelle Faeries and Unicorns. I love the neutral tones of these wraps! After one wash the wraps softened up beautifully to enable a great wrapping job. It was lovely and soft for my four month old, but wonderfully supportive for my three year old. Front wrap cross carry and double hammock are my go-to carries with wraps, but I could tell that this wrap would be wonderfully supportive even in single layer carries. Its wonderful to know that these wraps are also being produced here in Australia, and is a great opportunity to support local businesses while enjoying carrying your baby close. Thank you Lewlewbelle!

Chelsea - Lewlewbelle Faeries
My first impression: PRETTY!
My second: Eeek, I need to wash this. STAT.
After a wash and a twist and a couple of yanks through sling rings, my all-cotton Lewlewbelle faeries felt much friendlier. Audrey and I felt hungry. So we took the fairies grocery shopping in a ruck.
I think a ruck is a pretty big test.
The right wrap needs to be gentle on the shoulders and have a pleasant amount of grip to get a good seat and stay firmly tucked. At the same time, I want my rucking wrap to tie nicely around my ribs and have a less than enormous knot. Win, win, win.
After we bought all our vegies, I impulse shopped for some shoes. Then we picked up some craft supplies. Still comfy on the shoulders. We even scored some compliments on attractiveness!
The jacquard is surprisingly supportive and thin enough to get a very secure wrap job, but is fluffing up nicely and doesn't grind on my shoulders or feel strained. The design is absolutely gorgeous both sides - there's nothing better than a wrap without a 'wrong' side! So far fairies has wrapped a squish in FCC, a toddler in DH TAS and a ruck, Poppins and Robin's hip carry, and even a three-year-old has been "uppy!" I'm wondering what the next gorgeous design will be!
Rikki
The grads are so smooth and even. The color is amazing! The linen was soft right out of the package. I washed and fluffed the hemp before wearing. The hemp will need some breaking in but it is far from beastly. They are both thin but supportive. They have some stretch and some bounce. The linen is wider than the hemp but both are easy to wrap.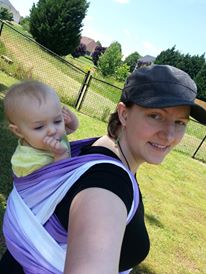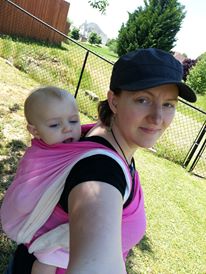 Manda
I am in love with my hemp wrap! Whenever I watch the 'how to' videos I am always amazed at how effortless and natural those women are wrapping their babies, compared to my clumsy attempts. But not any more!! After only an hour's play with my hemp wrap I feel exactly like those women in the videos. It is exactly what I picture wrapping should be like in my head. I also like the ice dye effect, so not only do me and my daughter feel comfortable, we look amazing too !