About Us
Lewlewbelle is named after my first two loves, Belle and Lew Lew.
Lewlewbelle started when Lewis was a just tiny baby, making little lovelies for babies in my spare time. It has gradually morphed into what is now a love for Art On Cloth.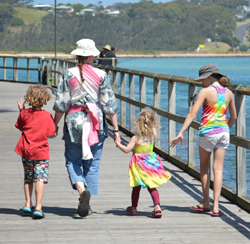 I have always worn my babies, and discovered woven wraps when Lewie was 12 months old. As a newborn my Maeve suffered from reflux and was most happy upright and snuggled on Mum or Dad in a woven wrap, so I invested in a second shorter wrap to leave in the car so I was never without one!
Living in a town with hot summer weather I found linen and hemp to be more suitable for warmer weather. So I found some beautiful linen, and dyed it in colours of the rainbow. I still use it today and it remains my favourite.
Baby wearing is awesome and I love to share the baby wearing love!
Give you baby the best gift ever….you!.
Tag your photos using #lewlewbelle on our Facebook or Instagram page.