Wrap Sizes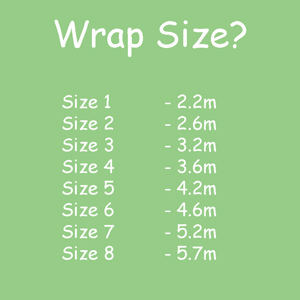 What size should I get?

It will vary depending on the carries you like to do . A size 5 or 6 can be a good one to start with, as most carries can be done with these lengths.
If you wrap more when out and about shorties are great, as they don't tend to drag on the ground while wrapping. If you wrap more at home then longer tails won't be such an issue.
How old is your baby – different stages often call for different lengths. A toddler may not appreciate waiting while you double hammock, whereas a young baby is quite happy to snuggle on your back while you wrap.
Starting with a longer or shorter wrap really depends on what your needs are, and baby wearing meets are a great way to try out various wraps and carriers and find out exactly what will suit your needs.